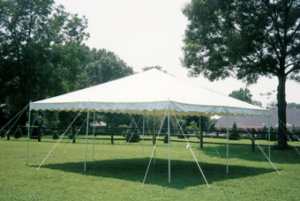 Anyone who has planned an event would tell you that the rent a tent services offered by us make planning so much easier! Why would you want to rent a tent? Simple! Renting a tent for an event is convenient because a tent offers the ability to create additional space for larger events. Whether you are expecting hundreds of people for a wedding, graduation, or birthday party, we can provide a tent big enough for all occasions! Customers from all over PA, including Newtown, Philadelphia and Montgomery County, have turned to us for event rentals. We make event planning in Philadelphia easy and convenient for those who wish to host the event of a lifetime!
Imagine couples, not having enough room for guests at their wedding. Or, imagine the birthday boy/girl not being able to celebrate this special day with the entire family, because there are not enough seats. All of these fears can be wiped away with our rental services! Our rent a tent services allow customers to choose a tent that will fit everyone at the reception. Our chair and table rental services allow customers to choose enough furniture for their family, so they can see the birthday boy/girl blow out the candles! We make sure that the only tears shed at your special event are those coming from the sight of beauty and success!
If you are planning to host an event in the Newtown, Philadelphia, or Montgomery County area, do not hesitate to contact the best! We have specialists available throughout the day to answer your questions and assist you with choosing the right party rentals for your event. Please contact us for rent a tent services! We offer the best prices on the market today!
Are you ready to choose your Philadelphia party rentals? Give us a call or reach out to us via email.