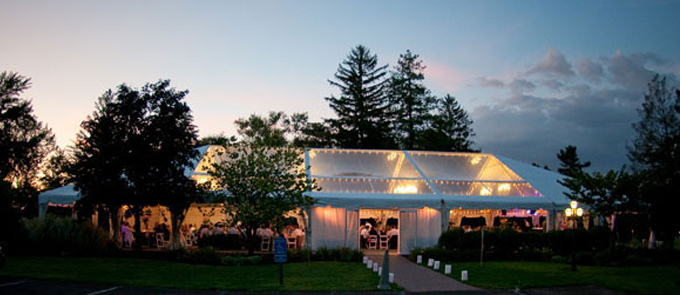 So, you are getting married, or a loved one is turning 40, or maybe you are just looking to have a good time with family and friends, but you don't have the space or know where to start…. That's where Newtown Party Rental comes into play! Our dedicated team will take care of it all! Our Party Rental Company of Philadelphia has all the necessary equipment you can possibly think of from dance floors, games, décor, even heating and cooling needs. With a vast majority of PA Party Tent Rentals and equipment available, we will be able to accommodate every aspect of your social event!
If you are looking for an enchanting evening for your reception with bright lights up above to light up the dance floor, we can help create the perfect ambiance. Our Philadelphia Party Rentals service will guide you through the entire event planning process no matter what the occasion to ensure everything goes as planned on the big day. Let our experienced staff help you throw the party of the year, by making sure you get the attention you deserve in order to make it an intimate special event!
Here at Newtown Party Rental, we have just about everything you may need for your special gathering when it comes to Party Rental Services in PA. The success of a monumental event always lies in the attention to detail such as the linens, décor, dance floor, concessions, and the list can go on as to what "wow" factor you are looking to amaze your guests with. For Philadelphia Party Tent Rentals, don't skimp out on minor details you wish you had done! With our affordable prices, your event will have the highest quality of party rental equipment. Not only that, but be sure to take full advantage of our crew here at Newtown Party Rental, we know everything there is when it comes to Party Tent Rental Services in PA to ensure that you and your guests can fully enjoy the work that has been put into your special event!