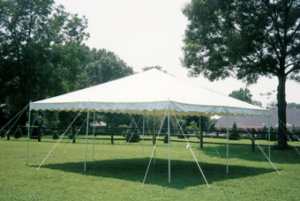 Today, weddings are more grandiose than ever! Most people find that the only way to create enough space for their wedding is by using wedding tent rentals. Not only will tent rentals offer as much room as you need, they can also be decorated towards your specific needs. Do you need additional lighting for a mid-day-nighttime wedding? Or how about temperature control, because you aren't quite sure how warm or cool it will be? We can add on these great features at an affordable price! Newtown Party Rental is the leader for event planning in Philadelphia. We have helped couples from Princeton, NJ and surrounding areas make their wedding a major success. We want to help you next!
Our main goal is to help you make your wedding a success, not just through wedding tent rentals, but through other Philadelphia party rentals as well. By renting our wedding tents, couples can find an affordable alternative, without having to sacrifice the size or beauty of their site. If your wedding is taking place on a flat surface, such as grass or concrete setting, we can easily install a tent with all the features you want! Whether you are expecting 100 guests, or 1,000, we will make sure your tent can fit each person comfortably.
We have a professional staff of consultants ready to help you with wedding tent rentals. They will work with you to make sure you get exactly what you need to make your wedding a huge success. From tent rentals, to wedding décor, they will assist you in a stress-free environment! You have many more things to worry about when planning your wedding, but choosing between wedding tent rentals shouldn't be one of them! Give us a call today and leave the hard work up to us!
Years from now, guests will sum up your wedding in one word-unforgettable.