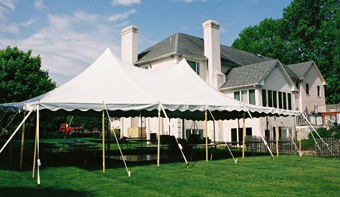 A couple's wedding day is one of the most monumental days in their lifetime where they vow to spend the rest of their lives together. Not only are you and your significant other committing to each other, but you are also celebrating it with friends and family to enjoy and go forth into the next chapter of your lives. With that being said, why not make this big step one of the most unforgettable days for not only you, but also everyone who is invited with the best Wedding Tent Rentals in Warrington available from Newtown Party Rental.
Weddings are not just about how large or extravagant you can make the ceremony or reception, or how much the bride spent on her gown. Wedding days are all about the memories and moments shared during this special day in the couple's life that is spent with their closest friends and family. Here at Newtown Party Rental, we simply see ourselves as giving couples all the right tools and Wedding Party Rentals in Yardley to make this day unforgettable!
With the right finishing touches to one's wedding, it will help create the perfect environment to one of the most memorable days in your life. Whether it is the aisle runner at your ceremony, wedding arch you will take your vows under, or dance floor where you'll have your first dance as a married couple, all of these things are what makes the day special! For those who are looking for more than just the traditional ballroom reception, they can choose between one of our many Wedding Tent Rentals in Langhorne!
Newtown Party Rental has it all when it comes to your wedding and reception needs. We have tables and chairs, lighting fixtures, wedding tents, linens, glassware, and other wedding décor that will be sure to tie in every element of the big day! Our Wedding Tent Rental Company of Princeton, NJ will suggest the proper amount of tables and seating for all your guests and caterers that will make the event go smoothly without any hiccups along the way. By knowing that you and your guests will be comfortable, relaxed, and have enough space in your wedding tent, will make for a more enjoyable environment.
It is our duty to make our Wedding Party Rentals of Warminster the easiest to obtain when it comes to planning. The options are endless, and here at Newtown Party Rental, we like to think that we provide more than just wedding tent rentals, party equipment, and services, but also what brings everything together on this special day. It is our mission and duty to make sure your event is successful in every aspect of the ceremony and reception. Contact Newtown Party Rental today to find out more on our extensive list of inventory that is available for Washington Crossing, Bucks County, Montgomery County, and even into the Princeton, New Jersey area!
If you have any questions about our Wedding tent rental Services Company is Huntington Valley, give us a call today!