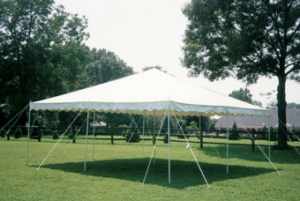 One name comes to mind when you need help planning an event in PA or NJ. That name is Newtown Party Rental! We have a full staff of people who dedicate their lives to making sure people get the best party rentals for their special occasion. We are there when couples need party rentals for their wedding. We are there when parents need party rentals for their child's graduation party. We are there when hosts need party rentals for any event!
From Bucks County to Philadelphia, if there is an event taking place, chances are, it needs some party tents to spice things up! Philadelphia party rentals can be used for elegant galas, or even traditional Bar/Bat Mitzvahs. As a one-stop shop for party supplies and tent rentals, we will help you plan ever last detail, from the lighting, to dance floors! Clients feel at ease when dealing with our staff because everyone presents a friendly, professional atmosphere. Planning a wedding doesn't have to be dreadful! Spending a few hours discussing ideas for party rentals with our staff members, can be fun! All stages of the planning process can be thought out properly, relieving stress associated with hosting the event.
If you are hosting a party outside, one thing you may be worried about is the weather. By choosing tent rentals, you don't have to be worried! Everyone will gather underneath the tent and party the night away! A tent can also provide a comfortable atmosphere, no matter how cold or hot it is outside! We offer cooling and heating options.
Interested in learning more about our tent rentals? Please contact us anytime to discuss any graduation, birthday, or wedding tent rental! Need a wedding tent rental for a Philadelphia area wedding? We can help you choose between a variety of tents and canopies. From large, to small, we cater any size event.