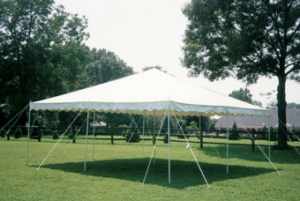 Newtown Party Rental is the premier rental company for hosts planning an event in Bucks County, PA. Along with offering various party rentals such as tents, tables, chairs and others, we take care of every detail involved with planning your party. We always make sure hosts get exactly what they need to make their event one that is talked about forever. With over 25 years of experience being the top rental company, we have assisted customers of PA and NJ with finding the right party rentals. We take event planning in the Philadelphia area to the next level of excitement and fun!
Along with offering a wide variety of party tents, we offer many more party rentals to choose from. Not sure what type of chair guests will find more comfortable? Need a table large enough to sit five people each? How are guests going to dance without music? All of these questions can be answered by our planning specialists! We make sure you get the Philadelphia party rentals you need to accommodate everyone attending your event. We have comfortable chairs to choose from, large tables for specific seating arrangements, professional sound systems and more.
Tent rentals are used by many hosts, for many events, around the country. They come in handy if you are unsure about the weather or unsure if you will have enough space for guests. If it's raining out, the tent will keep everyone warm and dry. Sometimes, weather that is too cold or too hot can put a damper on an outside wedding. We offer heating and cooling option for all party tents, giving the party the perfect temperature. Additional lighting structures can give any event the perfect mood, as the day turns to night. All will be pleased that you chose a party tent from Newtown Party Rental!
Want to make your event the best party in Bucks County? Give us a call today! We have the best party rentals waiting for you!